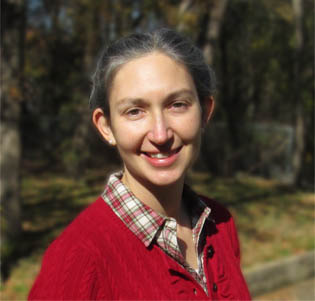 I come from a family of book nerds. We would trundle back and forth to the library with laundry baskets full of books.  My sister and I could read anything we wanted to, and our mom and dad let us check out as many books as we liked.  On long, lazy Sunday drives, mom would read to us as dad drove — books about ancient Egypt, fairy tales, Little House on the Prairie, thrilling, breakneck Dick Francis mysteries, or ones that made us laugh, such as Sideways Stories from Wayside School .
I also loved to write when I was little.  In second grade, I wrote a story about a girl who lost a tooth, just to be the second grader who had the most stories posted on the class bulletin board. (Not the best motivation for writing!)  Every year, my elementary school classes would visit the Children's Literature Festival in Warrensburg, MO, where real, live authors would read to us from their books and tell us how they became writers.  I learned, without really knowing it at the time, that books didn't just appear – that regular people could make them, too.
When I grew up and went to Carleton College in Northfield, Minnesota, I studied English Literature, and my job was to read books and write about them all the time.  I met my best friend there, and we became friends partly because she liked the books on my shelf – the books I couldn't bear to leave home: Anne of Green Gables; A Little Princess; Goodnight Moon; Where the Wild Things Are.  At college, I met even more friends and books that I loved – Pride and Prejudice; Middlemarch; Song of Solomon.  I also learned that other people liked children's books, too – that you didn't have to be young to enjoy them.  I started writing reviews of picture books for the Riverbank Review, and at the end of college, I moved to New York City to help make books.
For a year, I worked for a book publisher in the Big Apple.  I was lucky enough to be able to help spread the word about the new books we published all day, and then to spend my lunch hours in the park behind the New York Public Library.  After work, I'd stop in bookstores and look at the new picture books lined up, just waiting to be read.  At night, in Brooklyn, I was busy writing stories of my own that I had planned on the subway ride home.
Then, after a year, I still dreamed of going to school, and so I left New York for the medieval city of Oxford, where people had been making books for over eight hundred years.  There are parts of Oxford where vents in the sidewalk sometimes grant you a magical whiff of the miles and miles of books kept in tunnels hidden just beneath your feet.  I spent almost ten happy years in Oxford, reading books and writing them for grown-ups and for children.  I met my husband there (who is happily, also a book nerd – although he's not sure about that term!), and I made books for him.  My teachers, my friends, my husband, and the city itself all helped me to write.  I wrote a story about a tale that I had heard my Oxford supervisor tell once – a story about a monk and a bear's taste for an unusual snack.
I finished at Oxford and moved back home to become a college professor.  I teach about the middle ages, and I have even taught a History of the Book class, just like a favorite class I had in college, where the students make their own, handmade book projects.  I couldn't forget about the manuscript-munching bear, though.  After grading essays and preparing for class, I would bring out his story to write — and rewrite — in the evenings.  The medieval monks that I taught about in the university during the day came alive once more, after class, in my story.  Eventually, that story became Brother Hugo and the Bear.