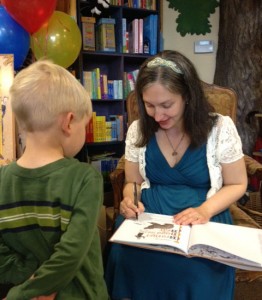 A teacher and experienced speaker as well as a writer, Katy is available to speak to groups of all ages —
from pre-K children to university students and adults.
She fits her presentations to the interests and needs of her audiences and offers interactive storytimes designed to engage the youngest listeners. She also gives talks for more mature audiences on a variety of topics, including writing for children; the "History of the Book"; and the making of a medieval manuscript.  Each talk or storytime, whether for children or adults, involves activities for the audience and time for questions at the end.
If you are interested in having Katy meet with your school or group, please book your visit by writing to: info@katybeebe.com.
–
 UPCOMING EVENTS

–
A Book Launch Party for Nile Crossing 
and Fundraiser for the Arlington Public Library
Saturday, October 28, from 11am to 1pm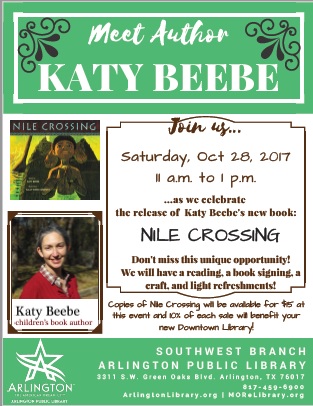 –
 PAST EVENTS

–
A Brother Hugo Story Time Reading & Craft Activity 
Saturday
October 22, 2017
Noon to 4 p.m.
at Levitt Pavillion
100 W. Abram St., Arlington, TX
Part of the Medieval Arts Festival organized by the Arlington, TX Public Library
A knight enjoying a battle before story time at last year's event:
Experience the Middle Ages as history comes to life! Fascinating exhibits of medieval arts and sciences will be on display. Live demonstrations of ancient weaponry will be conducted by costumed members of the Society for Creative Anachronism, an international organization dedicated to researching and re-creating the arts and the skills of the Middle Ages.
Festivities will be held at the Levitt Pavilion and will include stories, games and activities for children. This annual event is entertaining and educational for the whole family. Come join us and celebrate autumn in medieval style! Admission is free!
–  –
A Book Signing for 
Brother Hugo and the Bear
Thursday, June 26, 2014, 6-8pm
Presentation at 6:30 p.m.
Northern Resource Center Library
Cass County Public Library
Refreshments will be served.
Books will be available for purchase.
– and –
Writing and Publishing Great Books for Children and Young Adults:
Writers' conference sponsored by the Cass County Public Library Foundation
A Morning with editor Cheryl Klein and author Katy Beebe
 Saturday, June 28, 9 a.m.- 12 p.m.
Belton School District Curriculum Center
813 West North
Belton, MO, 64012
A benefit for the Cass County Public Library Foundation
Details and Registration are available here: http://www.casscolibrary.org/foundation/conference